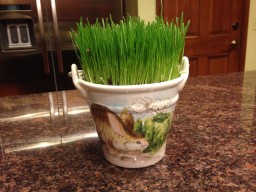 Growing Wheat Grass
Wheat berries are sold at Health food stores or on line. The seeds and grass are both edible.
Soak wheat berries over night.
Fill leak proof container of your choice with soil. If planning on eating the  wheat grass choose organic soil.
Generously sprinkle soaked wheat berries over soil and cover lightly with another layer of soil. Water in.
Cover with plastic wrap and put in a bright sunny spot.
Check over the next few days to make sure moisture is consistent. When you start to see sprouts take plastic wrap off.  Keep soil moist by misting or watering lightly.
At this point, the grass will grow rapidly and fill in. Be sure to keep moist.  Cut grass if it begins to get too long for your desired project.
Have Fun!