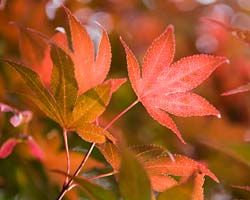 Tree & Schrub Care: Wait until trees and shrubs drop their leaves or undergo color change before planting them or digging and moving them to new sites. At that time they are entering dormancy and will not suffer as much transplant shock when moved.
Broadleaved and needled evergreens, both dwarf and standard, are best planted or moved by October 1. Water deeply and thoroughly at planting time and each week up until the ground freezes.
Continue to water large trees and shrubs, especially evergreens, until the ground freezes hard. Evergreens continue to lose moisture through their needles throughout winter and must have adequate water in their root zones to avoid winter burn.
Continue to deadhead both annuals and perennials to encourage additional flowers.
Return of cool weather is a good time to refresh annual containers with cool-season favorites such as pansies, ornamental cabbage and kale, chrysanthemums, or fall-blooming asters. Asters and mums purchased in bloom this month are usually greenhouse-grown and not necessarily hardy. To increase their chances of making it through the winter, plant them directly in garden beds, rather than containers, early this month so they can establish their roots for a good four to six weeks before frost. Water well and mulch plants right away.
Early this month, entire lawns or bare patches may be seeded with appropriate grass seed mix. The next six weeks will provide an abundance of produce. Continue to harvest vegetables as they ripen. Cuttings from favorite or unusual varieties of annuals such as geraniums, coleus, begonias, and impatiens can be taken this month, potted up, and brought inside to a south-facing window. Houseplants that have spent summers outside should be monitored in the event of a premature frost. Check plants carefully for any sign of insect or disease before bringing them indoors. Gradually reintroduce these plants to indoor conditions. Consider repotting and changing soil at this time. Do not change size of pot until spring.
Good Flower Choices for Drying
African Marigold (Tagetes erecta)
Anise hyssop (Agastache foeniculum)
Cornflower (Centaurea cyanus)
Delphinium, Larkspur (Consolida ambigua)
Globe Thistle (Echinops ritro)
Globe amaranth (Gomphrena globosa)
Globe amaranth (Gomphrena)
Lady's Mantle Alchemilla mollis
Larkspur (Consolida ambigua)
Lavender (Lavandula Augustifolia)
Mealy Cup Sage Salvia farinacea
Love-in-a-mist (Nigella damascena) seed heads
Marjoram (Origanum vulgare)
Pompom Dahlias (Dahlia hortensis)
Poppy seed heads (Papaver somniferum)
Roses (Rosa)
Starflower (Scabiosa stellata)
Statice (Limonium sinuatum)
Strawflower (Helichrysum bracteatum)
Yarrow (Achillea millefolium)
Air drying is the simplest way to preserve your cut flowers. Gather the flower stems into small bunches, about a ½ inch in diameter, and wrap them tightly with a rubber band. The stems will shrink slightly, so make sure the band is tight. Hook a paper clip through the rubber band and hang the bunches, upside down, from the ceiling, with a hook or string. Keep them upside down so that the stem don't bend from being top heavy.
If you are only drying the flower heads, lay them out individually on a screen.
If you want to find out more about dying dried Hydrangea blooms, visit:   https://www.ritstudio.com/